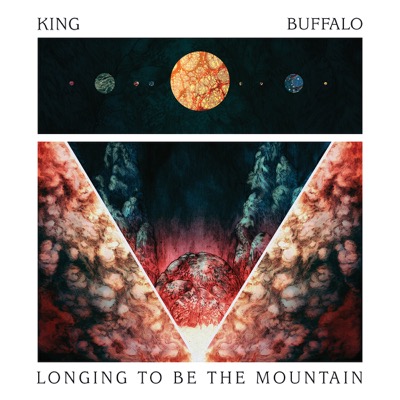 Um es gleich schon mal vorweg zu nehmen: KING BUFFALO haben mit ihrem zweiten Longplayer einen absoluten Hammer abgeliefert, welcher natürlich auch Anwärter auf das Album des Jahres 2018 ist. Was sich mit ihrer letzen EP "Repeater" schon angekündigt hatte, findet seine Fortsetzung auf dem alles überragendem "Longing To Be The Mountain", welches sechs Songs mit einer Gesamtspielzeit von 42 Minuten beinhaltet und folgendermaßen klingt: 
1. 'Morning Song' (09:50): Vogelgezwitscher paart sich mit cooler Pink Floyd-Gitarre und geht dann in einen relaxten Rhythmus über. Der Sound wird hypnotischer und die wundervoll-weichen Vocal-Hamonien klingen einfach nur schön. Zum Ende hin wird dann noch die herbere Psycho-Gitarre ausgepackt – was für ein überragender Start in ein Album.
2. 'Sun Shivers' (03:30): Herrlich seichte Nummer mit ebenso entspanntem Rhythmus und liebevollen Vocals. Recht kurz der Song, aber dafür sofort im Ohr und herrlich relaxt. 
3. 'Cosmonaut' (03:58): Etwas hell-klirrende Gitarre trifft auf leicht spacigen Sound (besonders beim Chorus) mit natürlich wieder völlig unaufgeregtem Gesang in dementsprechender Atmosphäre – toll.
4. 'Quickening' (04:20): Diese Nummer wird in diesem Jahr kaum zu schlagen sein. Pink Floyd-Töne in hypnotischen Sounds zum Wegfliegen, treffen auf heavy Fuzz/Stoner-Gitarre und dazu dann noch die so unheimlich melodischen Vocals – sensationell !!! 
5. 'Longing To Be The Mountain' (10:22): Sphärisch-Atmosphärische Klänge kommen von ganz hinten und gehen in eine relaxte und unheimlich prägnante Gitarrenmelodie über. Dazu scheppert es immer mal wieder und der zweite Teil des Tracks tendiert dann eher gen Psychedelic-Rock – grandios. Auch hier sind die harmonischen Vocals wieder so anschmiegend schön. 
6. 'Eye Of The Storm' (09:53): Song baut sich langsam auf und endet zum Schluß in schön fetten Stoner-Sounds. Bis dahin deckt die Nummer Genre wie Psychedelic, Blues, Rock und Fuzz ab – bombastisch. 
Wer sich einen großen Gefallen tun will, der sollte sich für "Longing To Be The Mountain" einen Kopfhörer aufsetzen, um die ganze Intensität und Schönheit dieses Werkes richtig spüren zu können – Kopfhörer auf, Augen zu und in eine anderen Welt abtauchen, wundervoll.